| | |
| --- | --- |
| | |
---
Posted: 28 Feb 2011 05:43 AM PST
Our latest marketplace bundle, The Cinematic Bundle, is getting ready to launch! On March 7th we will be giving away our biggest value bundle yet – $500 worth of royalty-free AudioJungle and VideoHive files for the just $39. That's one amazing opportunity! The bundle, containing 15 mouth watering Adobe After Effects project files and 25 epic music and audio files will be available for a limited time, only 4 days, so be  sure to add March 7th to your calendar!
Referral Opportunity
As you can imagine this bundle is going to sell like hotcakes, so this is a great opportunity to earn some quick referral cash! We've created no less than 24 banner graphics that you can add to your own blogs and Web sites to promote the bundle. It's as simple as downloading one of our banners, adding it to your site, and then hyperlinking the graphic using the following link making sure you replace "username" with your own marketplace username:
http://videohive.net/bundles/cinematic?ref=username
Win $500 Cash!
Not only is this a great opportunity to earn some extra referral money, but we are also giving away $500 of cash to one lucky winner! We are also giving away five runner up prizes of $100 worth of marketplace credit, so that's a total of $1,000 of prizes! You can enter via Facebook and Twitter and you can enter as many times as you like!
Don't miss out on this great referral opportunity and stay tuned for the launch of The Cinematic Bundle on March 7th. Happy referring!
Meet the Staff: The Psdtuts+ Team
Posted: 28 Feb 2011 12:00 AM PST

Every week we'll introduce you to an Envato staff member or team. This week we meet the Psdtuts+ team. This is taken from the Meet Our Team page on Psdtuts+.
Sometimes, it's easy to forget that actual human beings create the content here on Psdtuts+. We are in fact real people, and not just Photoshop loving robots. In addition to numerous part time contributors, we have a team of talented and passionate artists creating all kinds of tutorials and content teaching illustration and design within the context of a Photoshop workflow.
Browse this page to get to know us better and feel free to say hi on Twitter or on Facebook. Also, if you would like to contribute content to the site you can learn more information on our Submission Page.

---
Grant Friedman is the man behind the curtain at Psdtuts. He is responsible for the approval, scheduling, budgeting, editing, and publication of most of the content that you see on the site. Grant is also actively involved in updating the site's Twitter and Facebook accounts. In addition to being the editor of Psdtuts, Grant is also an active member of the design community. He was the founder of the popular design site, Colorburned and has even authored a book on retro design. To learn more about Grant, follow him on Twitter.
---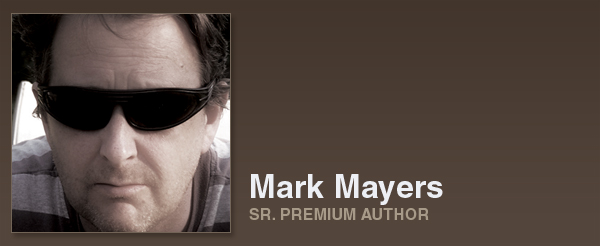 Mark Mayers is a talented designer and illustrator from the UK. He has worked as a designer and creative director for several design/advertising agencies and specializes in print, branding, packaging, and exhibition graphics. Mark began his career when the tools of the trade were markers, layout pads, and most importantly, the ability to draw, but he embraced the digital revolution in the early 90′s and swapped his drawing board for a Mac. Today, Mark freelances from his studio in Cornwall for such clients as American Express, BMW, Future Publishing, IDG Communications and Imagine Publishing.
---
Callum Chapman is a self-employed graphic/web designer, illustrator and blogger working under his soletrading company Circlebox Creative. He also runs The Inspiration Blog, a blog dedicate to design/photography inspiration and Picmix Store, a store dedicated to high quality and exclusive prints, with 10% of all sales going to charity.
---
Michelle Krasniak Oxman has worked as a Technical Writer, Marketing Copywriter, and Copywriting Consultant. Trained as a journalist with a knack for marketing, Michelle has a unique perspective when writing content of all types. Her specialties include website copywriting, SEO/SMO content and in-depth looks into the lives of the world's top creative personalities. In addition to writing, Michelle has served as Technical Editor for a number of Social Media-related "For Dummies" books and is a co-author of the upcoming "CityVille for Dummies," due out Summer 2011. When not writing and editing, Michelle works with small to medium-sized businesses to help them maximize their marketing ROI through the use of Social Media. Connect with her on Facebook, LinkedIn and Twitter.
---
Stephen is a designer from the Midwest who works primarily in print design and also does some work in web design. He began experimenting with textures in photoshop while working as a 3D production artist in the architectural and engineering field, and continues to develop new tricks and techniques as a graphic designer. When he's not at work, he's usually busy with illustrations, websites, or freelance projects. Any free time is devoted to his wife and his pug, Clover.
You are subscribed to email updates from Envato Notes
To stop receiving these emails, you may unsubscribe now.
Email delivery powered by Google
Google Inc., 20 West Kinzie, Chicago IL USA 60610