| | |
| --- | --- |
| | |
---
Winners Announced: 3d Game Model Competition
Posted: 06 Dec 2011 04:00 PM PST
We figured that the unartistic games developers of the world needed your help, so we recently ran a 3d Game Model competition.
We want you to create low-poly models that are not only good lookin', but also built so they'll run smoothly in a game. We don't care if it's a zombie for a mobile shooter, an airplane for a flight simulator, or the Zwlarg headquarters for your RTS – we just want game-ready characters, vehicles, and buildings.
Thanks to everyone who participated. There weren't as many of you as we had hoped, so we had to be flexible with the rules of entry, particularly with the poly count being over.
Josh Sprague recently announced the winners on the forums. Congratulations! Here are the incredible winning entries.


Grand Prize Winner
Author: tsura
Prizes: $250 Cash
Your file has been included in the 3DOcean Indie Game Dev Bundle
Your file will be featured on 3DOcean
Winning Entry:

Second Place
Author: Cremuss
Prizes: $150 Cash
Your file will be featured on 3DOcean
Winning Entry:

Third Place
Author: hellcaller
Prizes: $100 Cash
Winning Entry:

Best Animation
Author: Cremuss
$50 Marketplace Credit
Best Character/Vehicle Design
Author: tsura
$50 Marketplace Credit
Posted: 06 Dec 2011 02:42 PM PST
Congratulations to this week's featured authors!
ActiveDen Featured Author: averta
This week's featured author is averta, who has 3 items, including the newest from the Banner Rotators category.
View averta's Portfolio
AudioJungle Featured Author: MartijndeBont
This week's featured author is MartijndeBont, who has 39 items, including the newest from the Dramatic, Action, Adventure category.
View MartijndeBont's Portfolio
ThemeForest Featured Author: orange-themes
This week's featured author is orange-themes, who has 11 items, including the newest from the News / Editorial category.
View orange-themes' Portfolio
VideoHive Featured Author: white-shade
This week's featured author is white-shade, who has 34 items, including the newest from the Holidays category.
View white-shade's Portfolio
GraphicRiver Featured Author: patrimonio
This week's featured author is patrimonio, who has 125 items, including the newest from the People category.
View patrimonio's Portfolio
3DOcean Featured Author: GoNS
This week's featured author is GoNS, who has 9 items, including the newest from the Electronic category.
View GoNS' Portfolio
This week's featured author is butterflymedia, who has 10 items, including the newest from the Miscellaneous category.
View butterflymedia's Portfolio
Tutorials Featured Author: Zeplix
This week's featured author is Zeplix, who has 25 items, including the newest from the Photo Retouching category.
View Zeplix's Portfolio
PhotoDune Featured Author: andreasgradin
This week's featured author is andreasgradin, who has 1032 items.
View andreasgradin's Portfolio
Posted: 05 Dec 2011 10:00 PM PST
Being multi-talented, rebranding his profile, trying to break into a new marketplace, and having a young family. This week we meet Jeff Oakley (JeffOakley) from ActiveDen, GraphicRiver, and hopefully soon ThemeForest.
Tell us a bit about yourself. Where are you from, what do you do for a living?
Hi, I'm Jeff, I'm 32 years old, married to a lovely wife and have a lovely daughter!
I've been into Graphic and Web Design for many many years and have a degree in Graphic Design from university. However I don't actually work in the industry full time, (although I'd love too!).
I work on my Envato files and design work in my spare time, whenever I can. (Although with a young daughter spare time is on the short side!) I love creating things and improving my skills along the way. For me, I design things I enjoy designing and having fun learning new skills.
What inspired you to get into graphic design? (LandonWilson)
I did a degree back from 1997-2000, (so I'm giving away my age here!), and the degree was in Business and Graphic Design. I'd always been into art, and drawing, painting, doodling cartoons, so I grew up wanting to work in a magazine in the art department.
Over my degree I kind of fell out of love with that idea and when I finished I worked part time for a few years before starting in a full time job. I work at a leisure centre as an Operations Manager, so it's nothing to do with want I wanted to do as a teenager / my early twenties.
However, in the last few years I've really tried to get back into design. I love it now, much more than I used to, and still dream one day of freelancing full time… that'd be awesome!
Which marketplaces do you belong to? What types of files do you sell?
ActiveDen, GraphicRiver and I'm currently busy creating a template to sell on ThemeForest.
My most recent files on GraphicRiver have included flyer designs, and graphic GUI designs. I haven't released anything on ActiveDen for a while now but one of my popular items is the 'AS3 full screen tiled background'.
As a seasoned veteran on ActiveDen and GraphicRiver, with over 50 items in total, how hard do you think it will be for you to break the ice on ThemeForest? (KiwiStudio)
Pretty hard. I'm under no illusions as to how difficult it is. I've already had a couple of rejections on themes, and although I haven't given up entirely on them, I've moved onto designing my new theme, which I hope to try and have approved shortly.
How did you get started? Have you had any formal training?
I completed my degree back in 2000, way back when Flash was in it's early stages. However, with the skills I have now I feel I am almost completely self-taught.
Having items on Graphicriver, Activeden and soon Themeforest demonstrates the use of 3 completely different disciplines, something which surely must have taken a long time and dedication to learn. How did you come to learn each of these very different skills? (quickandeasy)
I'm totally self-taught. My degree studies didn't really teach me anything about graphic design. I honestly feel I've learnt everything I can do now, through practice and seeing what I can create. I read tutorials, blogs and generally try and keep active on design communities when I can. I really enjoy learning new things and I think there's nothing more satisfying in designing stuff you enjoy designing, than having other people look at it and enjoy it too.
I see you're a big Flash guy. Really amazing work! What's your feeling on the direction Flash is moving in the last few years? Are you actively trying to adapt your skills into other areas? (JamiGibbs)
I haven't touched Flash in over a year now. I've been so busy trying to learn new things and simply haven't had the time. I hope to one day soon revisit it, and build some new files in Flash.
Right now I'm concentrating on theme design and learning as much as I can about that. In between my full time job and my family life it's tough to try and squeeze everything into one day!
Describe your home workspace.
A three year old HP laptop, working with Adobe Design CS3 software. I'd love to upgrade to CS4 or CS5 but the costs prohibit it for me currently. Maybe if I have a sudden surge in sales I'll think about it, or upgrading the laptop to a better machine, but for me these tools suit me right now.
Describe your creative process. What steps do you normally follow to create your files?
I usually always start with late night thoughts of new files. I mean, when I can't sleep, and am staring at the ceiling trying to go to sleep, my mind wanders onto ideas for new files…
I'd normally sketch my ideas out onto paper first, thinking about layouts and colours, then crack open Photoshop and start from there. I usually play around with the design and then get to a point where I go completely back to the start again and decide on a different path altogether.
I should really get a better structure going for my early ideas…
I have a sketchbook full of ideas and concepts for new files but at the moment, family time rules over my potential new files being released.
What is your advice to other authors regarding how to create a successful portfolio?
Look for trends in the industry. Be inspired by other designers but don't copy!
Creating that one magical file which is totally unique and sells in stupid figures is what I'm trying to achieve. Hopefully then I'll let the sales roll in…
Hi Jeff, how are you? About a year ago, your entire marketplace profile was rebranded. What key factors influenced your decision, and what significant impact, over these last 12 months, would you say it had on your sales and all-around marketing strategy? Any plans for 2012? (Dzinc)
Whoa! – that's so nice that you remembered me rebranding my identity on here. I used to brand myself as 'sirjeff', due to my fascination with King Arthur and medieval stories.
I figured I needed a better brand/look so swapped to my own name. I already owned the domain for my website of my own name, although hadn't actually used it; so I decided with the rebrand to use a domain of my own name as well.
Since the re-brand, (which I must admit not all my files have been updated with yet), it's involved me using Twitter a lot more, DeviantArt, and I've recently got involved on Dribbble and Forrst a lot more. (Follow me on those communities for any future updates!)
In 2012 I plan to concentrate a lot more on designing and be a bit more serious about it. (That's if my baby daughter will allow me to spend the time doing it!)
What do you do to market your files?
I'm in the process of updating all my preview images to include my new branding. I've used the same style of thumbnail to make my files recognisable. I promote through Twitter, Dribbble, Forrst, and DeviantArt. I try and provide good support to my buyers so that they might come back for new files in the future.
What are your three favorite files, and why do you like them?
Lumos GUI is my most recent file and my favourite at the moment.
Angels & Demons Styles is a file I eally enjoyed creating.
Web Button Creator is one of my favourite files for being easily customisable for the buyer.
Apart from yourself, who is your favorite marketplace author, and why do you like them?
What do you do in your spare time?
Being a dad is the best and I love spending as much spare time as I can with my daughter and wife.
I play basketball for my local team and help coach the team as well. I also snowboard and enjoy tending to my garden and a bit of DIY around the house!
How many licks does it take to get to the centre of a tootsie pop? (LandonWilson)
Don't know, but my favourite sweets are 'Haribo Fried Eggs' – can't beat them!
Posted: 05 Dec 2011 08:52 PM PST
This November we asked the community to get involved and grow a moustache for 'Movember' in support of the Envato Movember competition. Movember is a time to love facial hair and embrace growing a dirty Mo!
There was some spectacular talent on the Movember thread and if you have a chance you should check it out! It was a very difficult decision choosing the Golden Mo, but it was decided that the most extreme Mo should take the gold. All those who posted photos of their Mo get a black moustache badge for the effort. We'd like to give an added mention to those who raised funds for men's health as a part of Movember. Although the Envato competition is not officially affiliated with the Movember charity, we are proud that many of our community members went above and beyond in their Mo growing efforts. Considering that this competition is a little unfair for those who are challenged in the facial hair region (ladies) we have decided to award both a male and female Gold Mo winner this year!
The winner of the 2011 Gold Mo Bro goes to NikiN for his enormous final product!  Look how thick that Mo is, how do you hold that thing up NikiN?
BEFORE:   

AFTER:

The winner of the 2011 Gold Mo Sista goes to Wildemedia for her cute little finger Mo.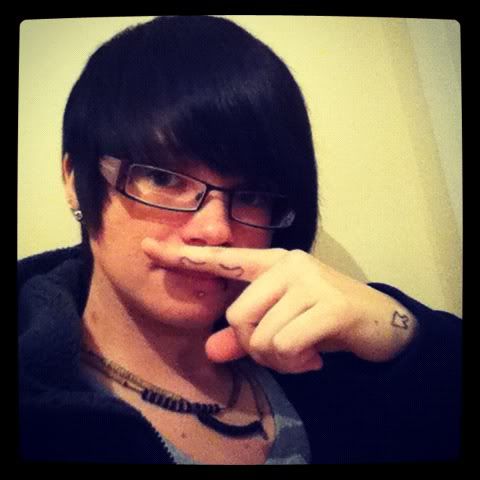 A special mention for Kontramax for his creative start to the month

and canimalition for this Bow Wow Mo!

Sadly we couldn't fit all the great photos in this post, congratulations to everyone who participated and got themselves a Movember moustache badge. If you would like to see some of the incredible Mo's check out the Movember thread.
You are subscribed to email updates from Envato Notes
To stop receiving these emails, you may unsubscribe now.
Email delivery powered by Google
Google Inc., 20 West Kinzie, Chicago IL USA 60610