| | |
| --- | --- |
| | |
---
VideoHive/AudioJungle Video Loop Contest
Posted: 15 Dec 2011 03:50 PM PST
AudioJungle needs the help of some VideoHive superheroes and we've got some great prizes to give away if you can help in our Video Loop Contest!
Background Information
Posting music videos on YouTube is a great way for AudioJungle authors to promote their music. You probably know this already as VideoHive authors – it's also a great way to promote your VideoHive files.
The problem for AudioJungle authors however is that while their expertise is in audio production they might not have the knowledge, know how or the software to produce videos to accompany their music. So that's where you come in in this exciting little mini contest!
What We're Looking For!
We're looking for .mov file assets (NOT After Effect files) that AudioJungle authors can download and use as videos for their music when they submit them to YouTube and Vimeo etc… So ideally, it might contain the AudioJungle logo and some kind of motion graphic or animation that is loopable. Maybe some pulsating speakers or headphones. Perhaps some animated audio equalizers? Creative control is all down to you!
AudioJungle authors will ultimately be able to download the loop, drop it into say, Windows Movie Maker on a PC or iMovie on a Mac, add their own music file, adjust the length of the video to the length of their audio file, and then export and upload to YouTube/Vimeo.
While you might like to make the video as "generic" as possible (so that it's suitable for ALL kinds of music genres), you are also welcome to create videos designed/styled to a specific genre. Electronica, Hip-hop, Cinematic, Motivational etc… it's entirely up to you!
Rules and Conditions
Requirements
Videos should be no larger than 1080p (1920×1080) although 720p (1280×720) is preferred
All files should be submitted as Quicktime MOV files and encoded with the H.264 codec.
Videos should be loopable.
Entries are made by posting a link to your video in this thread. We will ultimately download your video and host it on your behalf (after the contest is over)
Contest open until Midday (Central Time, US) on Friday, January 13, 2012.
Rules
Open to all marketplace members EXCEPT Envato staff, reviewers and mods etc…
Members can enter as many times as they like.
AudioJungle members will be voting to decide the winning videos.
Only ONE prize awarded per author. i.e. one author cannot win all prizes, just either one of first, second or third place based on number of votes received.
Prizes
First Place
$100 marketplace credit
Won a contest badge
Home page featured author of the week on VideoHive
Home page featured file of the week on VideoHive
Second Place
$50 marketplace credit
Home page featured file of the week on VideoHive
Third Place
Dates and Voting
Contest launch: December 15, 2011
Contest end: January 13, 2012
Online Voting: January 16, 2012 (we will post the voting form on this date)
Voting Closes: January 20, 2012
Winners Announced: January 23, 2012
Good Luck! 
It's Christmas Around the Tuts+ Network
Posted: 15 Dec 2011 01:00 AM PST
The holiday season is almost on us, and if you're anything like me, you've barely started your Christmas shopping. Tuts+ to the rescue.
Many of the Tuts+ sites have published great Christmas roundups, including gift ideas and more. Check out the suggestions at your favorite site.
And keep your eyes open for more. There's a good chance more Christmas roundups will be arriving in the next few days. Hopefully before Christmas!
Psdtuts+
Vectortuts+
Activetuts+
Phototuts+
New Tuts+ Premium Video Course: Identity Design
Posted: 14 Dec 2011 08:22 PM PST
We're pleased to announce our 7th in-depth course available to Tuts+ Premium members: Identity Design with Ben Gribbin. Over 18 lessons and nearly 3hrs of video training, you'll learn all the foundational skills needed to start doing identity design work for clients. This includes: research, brainstorming, sketching, designing a logo, business cards, print flyers, web elements (such as banner ads), as well as timescaling, pricing and where to find clients.
Not a member? Not to worry! There are four public lessons available. Links after the jump.

---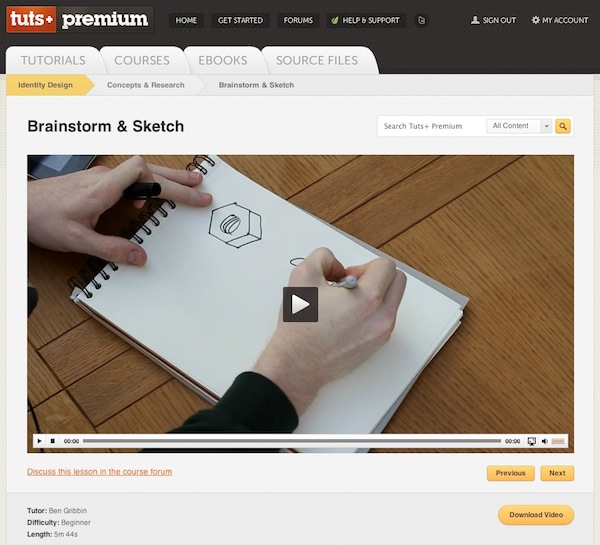 Public Lessons
If you're on the fence about joining, try becoming a member for a single month, and see how it goes! We have a 30-day, no questions asked, money back promise.
Members: Get Started!
Make yourself a cup of coffee, a pot of tea, or a cool glass of water – and get started with the first lesson!
Questions?
If you have any questions about the Tuts+ Premium service, just leave a comment; I'd be glad to help out any way that I can.
You are subscribed to email updates from Envato Notes
To stop receiving these emails, you may unsubscribe now.
Email delivery powered by Google
Google Inc., 20 West Kinzie, Chicago IL USA 60610